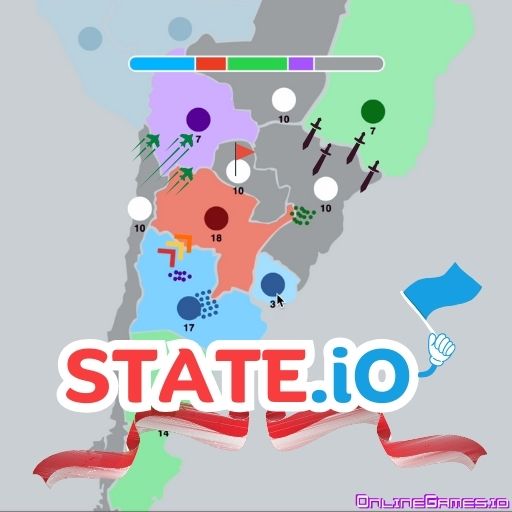 Are you ready to conquer your own world? State.io is a free strategic war game that you can play on OnlineGames.io. If you trust your strategy skills and tactics, join us! In this game, you must dominate everything and conquer lands quickly. Conquer the grounds and get the whole territory under your governance before your opponent.
How to play State.io?
All you need to have to play State.io is your mouse. Use your cursor to direct your units and send them by tapping the selected land.
What is State.io?
State.io is one of the best real-time strategy war games based on strategic thinking. Here, you are expected to act, considering everything, such as evaluating your opponent's strategic maneuvers. You are asked to conquer lands, protect the borders you have dominated, and capture the places your opponent has beaten, all at the same time. Challenging, huh?
Tips and Tricks for State.io
While playing the game, some options will make the game more enjoyable. You can consider the suggestions listed below:
Your chances of winning increase as you play the game and capture some regions. You get gold coins for every match you best. With these coins, you can increase the number of soldiers sent to the area at the beginning and increase the speed of your soldiers. These will help you win the game fast.

Seizing regions by distributing your units coequally to the other areas would be more logical than deploying all the soldiers in one place. 

On the other hand, in regions where your opponent's units are concentrated, it would be a more logical strategy to attack that region by combining your units from the other areas you have conquered.
Is State.io a multiplayer game?
State.io is a multiplayer game where you can fight with others. The advantage of playing it with multiple players is that you can make your moves easily while they are fighting against one another. On the first levels, you will play the game one-on-one, and on later levels, you will face more opponents.
How many levels are there in State.io?
There is no level limit in State.io. This game offers you an endless gaming experience.
More Games Like This
If you like State.io, you should definitely try WarBrokers.io and ArenaWars io. Or, you can browse all io Games on OnlineGames.io by following the link.