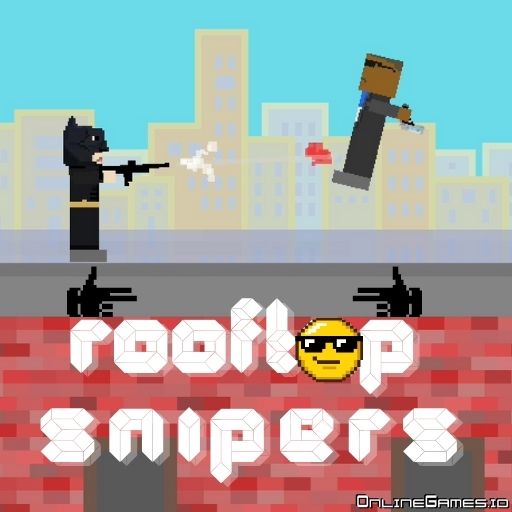 Are you ready to duel? Rooftop Snipers is a pixelated 2 player shooting game where your sanctuary is the rooftop. You must handle the conflict and try throwing your opponent off the roof. You have only 2 options: fall from the ceiling or eliminate the opponent. Stay above the top is the key strategy! You can play the Rooftop Snipers against a computer or a friend. It is up to you! Start playing Rooftop Snipers on OnlineGames.io now!
How to play the Rooftop Snipers?
Rooftop Snipers gives you minimal movement options. But this is what makes this game a thrilling experience. You can find the controls below.
1 Player Controls
Use the W key to Jump

Use the E key to Shoot
2 Player Controls
Use the I key to Jump

Use the O key to Shoot
Tips and Tricks
There are some handy tips to use while playing the Rooftop Snipers.
Jump to dodge! You can make your opponent confused in the area with plenty of motions. Plus, you can move back and forth by jumping. When you come to the roof's edge, try to jump and move forward. 

Hold the shoot to raise the weapon. When you press E, the gun starts to move. Use your best aiming skills to shoot your opponent correctly.

Let go to the shoot. After seeking your angle, press the E key again for shooting. And get them out of the roof!

In order to increase the chaos of the gameplay, Rooftop Snipers offers a variety of environments to play in. Keep an eye on what comes from the air. Because they are the ones who will influence your actions. They may give rise to glides.

Each round will get more complicated, from normal conditions to more specific combinations like falling civilians, beach balls or weapons. Various factors affect the round's difficulty, like map, weapon, fallings, weather and ability.

When the enemy gets shot, they will drift slowly towards the end of the roof. But more than hitting your enemy is required. You need to make sure that they fall from the top!
How to aim in the Rooftop Snipers?
If you use the suggestions in the Tips & Tricks section, your job will be simpler. But, I would like to give you another insider tip. The enemy will rebound more forcefully if you shoot at their feet. So, give them your best shot!
Similar Games
Access to Shooting Games, Action Games, and Sniper Games on OnlineGames.io to find additional games if you enjoy playing the Rooftop Snipers.