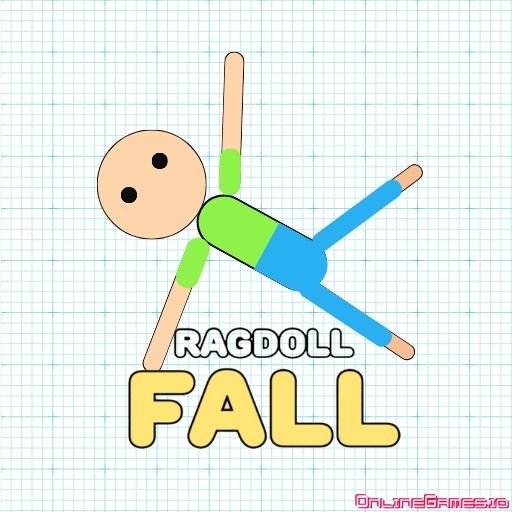 Ragdoll Fall is a 2D arcade game where the player tries to hit the ground with the ragdoll. The player's score rises in direct proportion to how many times the ragdoll hits the ground successfully. With every game, the players aim to break their own records; thus, the only person competing with them here is themselves. Try Ragdoll Fall and give in to the irresistible charm of falling with the added pleasure of sharp wheels!
How to Play Ragdoll Fall
Throw the ragdoll and start the game! Your main goal is to maneuver the ragdoll such that it hits the concrete platform. Don't let it sound easy to fool you. As you move forward, the spaces between the concrete pillars get wider, and you'll come across thin, unstable ones. A fall through the gaps will bring disaster and force you to restart.
Sharp Wheels
Along the path, there will be concrete surfaces with rotating wheels. Ragdoll will not be happy if it touches these wheels! The task is made more challenging by the occasional left and right movement of these wheels. Try to stay away from these as much as possible!
Thin Columns
While you may find wide columns throughout the platform, you will also encounter extremely narrow columns. When you come across these narrow columns, you must either hit the ragdoll to the column exactly in the middle or avoid those columns. If not, there's a chance the ragdoll will fall to the void, and you'll start over.
FAQ
On which devices can I play Ragdoll Fall?
You can play Ragdoll Fall on your Android or IOS device, desktop, tablet or Chromebook. All you need to play this game for free on our site is a stable internet connection.
Do I need to register on the site to play Ragdoll Fall?
There is no need to register to play the game. Just enter our site by typing OnlineGames.io in your browser and start playing directly after searching for the game in the search area.
Controls
To earn the greatest score, click the mouse button to strike the ragdoll to the ground.
What is More?
If you enjoy playing ragdoll games, you should give Stickman Ragdoll a try. In Stickman Ragdoll, you have to figure out the best poses and moves to perform in order to cause the ragdoll to leap. Use your creativity to find the perfect combination. Alternatively, browse through other carefully curated stickman games collection on OnlineGames.io. To ensure that you don't lose your gaming progress, please bookmark this page!