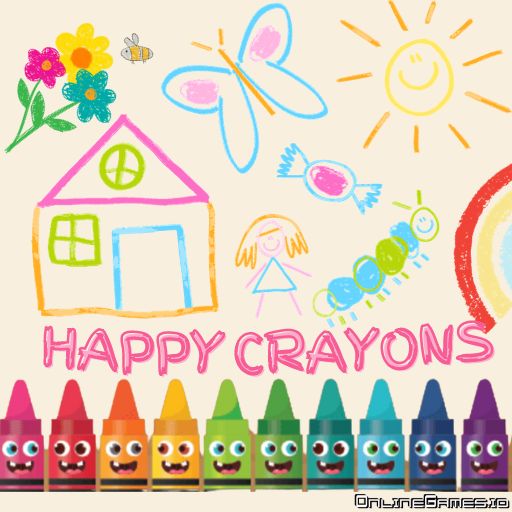 Ladybug, doll, weather vane and caterpillar… And more are waiting for you to color them! Happy Crayons is a digital coloring game where you have an interactive book. This book consists of everything you can imagine that you can paint. Choose the picture that looks most pleasing to your eye and start painting. It's an excellent opportunity to use your creativity! Also no mess, no waste of paper!
How To Play Happy Crayons?
Search for OnlineGames.io on your web browser

Look up to the Happy Crayons and enter the game

Choose a picture from the menu and start coloring

When you finish painting, you can save the picture 

By tapping next, you can move to the following picture

Or tap to the home icon and get back to the menu

Choose another image you want to color
Color Range
Happy Crayons offers you 13 various colors to choose from. These colors include primary colors that you will like. We also arranged different shades of blue, green and brown for you. Among the colors, our favorite one is turquoise. Create a different experience for yourself by using different colors as you wish.
Pink

Red

Orange

Yellow

Bright Green

Dark Green

Turquoise

Blue

Navy Blue

Purple

Light Brown

Dark Brown

Black
Is it safe to play Happy Crayons?
Yes, Happy Crayons is absolutely safe to play. Do not worry about your children while they are coloring.
Benefits of Coloring Games
Coloring games greatly benefit your child in recognizing and distinguishing colors. Happy Crayons contributes to your child's identification skills.

Coloring games support children in expressing their creativity. Let your child color the pictures in Happy Crayons, whatever colors he/she wants to use.

These games are also one of the best options for the child's ability to focus. Watch your child get carried away while coloring at Happy Crayons. Also, it encourages your child to develop patience and relaxation.
Controls
Use your mouse to pick your picture and start to paint it or erase the area you have painted. Select the colored paints you want from the ones arranged at the bottom of the screen by pressing the left mouse button. Drag the cursor to the part you want to paint on the image and hold it down to paint. You can apply the same technique to erase a painted area. Just click on the eraser on the left of the game screen. That is all.
You May Also Like
If you enjoy Happy Crayons, try Skribbl.io, where you need to explain a word by drawing it so the other players guess it as quickly as possible, and Paper io 2, our favorite io game, where you draw your lines to build your territory. You may also look up the Kids Games category on OnlineGames.io.