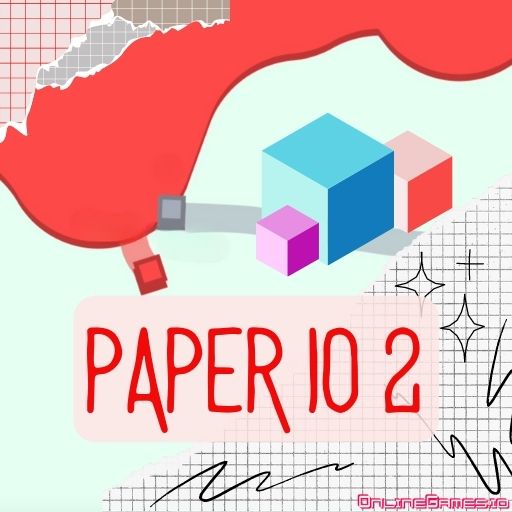 Welcome to the colorful world of Paper io 2! Paper io 2 is a free online game where you have plenty of white areas. Start drawing your lines as your opponents do. You need to establish your own territory by turning these areas into your color. Claim your areas as soon as possible while keeping other players from capturing your territory! This is the key strategy.
How to play Paper io 2?
You can start by writing your player's name.

Then click to play on the opening section.

Conquer the map by drawing lines around your territory.
Eliminate other players by slicing to capture their area, too. 

Keep an eye on the right side of the play screen, indicating your and other player's position.

Get a place on the leaderboard by having a significant amount of the paper and give your message to the whole Paper io world!
Controls
Draw a line using WASD or arrow keys. 

You can use your mouse as well.
Tips for Paper io 2
Remember to claim your territory by turning your way back to your starting point. Otherwise, all of your efforts would go in vain. 

The more territory you conquer by coloring it, the more score you earn. However, try not to expose your tail outside for an extended period.

Be careful of other colors (players)! If they capture your tail, they have the right to wipe off your whole territory in a second. Prevent the players from eliminating you.

Bonus! Do not attempt to kill your own self by eating your tail.

Keep track of how much of the map you colored and the total kills on the top left corner.
Can I play Paper io 2 on my mobile?
Yes, you can play Paper io 2 on your desktop, mobile, tablet and Chromebook.
Is Paper io 2 free?
You can play Paper.io 2 for free on OnlineGames.io without downloading. It is one of the most popular io Games. We bet you will get addicted to it!
Is Paper io 2 safe?
No worries. Paper io is safe and suitable for all ages. The game is free of violent visuals and fear themes.
You May Also Like
If you like Paper.io 2, we recommend you to look at io Games, and Multiplayer Games.