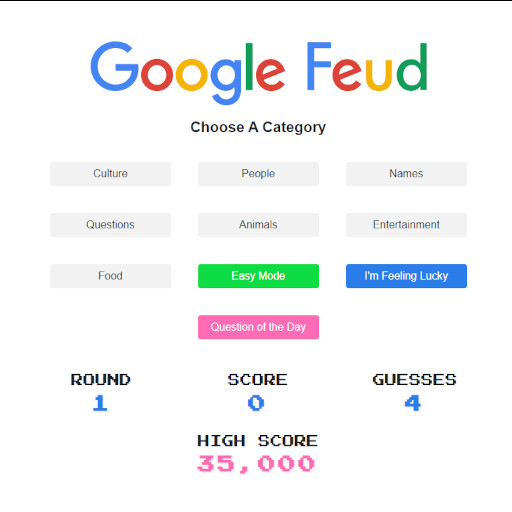 Prepare your fingers for some typing! Google Feud is a very interesting and engaging way to have fun. The game was created on a curiosity about how Google autocompletes a query. You will be given a selection of topics and try to guess the rest of the search queries on a specific subject. We assure you will be surprised and amused by the results most of the time. It is so absorbing that you may find yourself taking a break from the game and actually searching the results on Google sometimes. 
Even go further and double the fun by playing Google Feud with your friends and family. Organize a quiz show or have a contest about Google Feud and choose the hidden search engine master between you.
How to Play Google Feud?
Open Google Feud on OnlineGames.io.

Choose the category you want to play. Food, animals, culture... You have 10 categories that you can perform. If you are a beginner, stick with the Easy Mode. 

You will be given three queries in each round. 

You have three guesses in every query. 

Complete the query by typing your guess, hit enter, and chase after the top scores.  
Controls
Use your cursor and keyboard to play.
What is Google Feud?
Google Feud is a free online game where you try to complete the search queries made on Google. If you correctly guess the most popular queries, you will be rewarded with 1,000-10,000 scores.
How Can I Download Google Feud?
There is no official app of Google Feud that you can download. You can play it on your browser on OnlineGames.io.
Can I Play Google Feud on my mobile?
Yes, you can play Google Feud on your phone or tablet by visiting OnlineGames.io on your browser.
How to Cheat on Google Feud?
It is not hard to cheat the answers on Google Feud. You can always search the query on Google and find the answers, but it would be less fun than you played it without cheats.
You May Also Like
You may continue the fun by playing our fantastic Mobile Games and io Games collection. Follow the links to play for free on your browser.