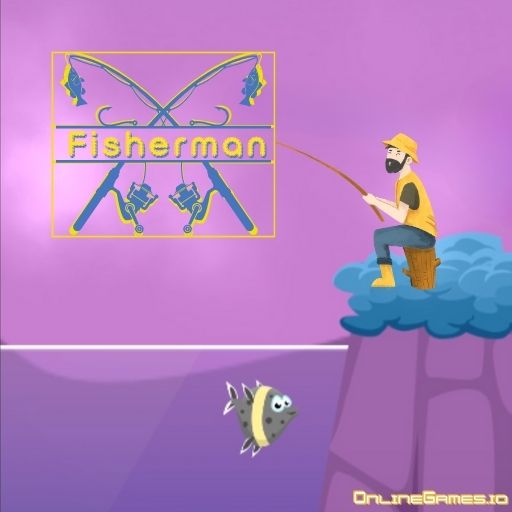 How about fishing? Fisherman is a funny fishing game where you try to put fish on your hook and try to catch them as much as possible. The types and weights of fish vary. The money you earn from that fish increases in direct proportion to the weight of the fish. Cast your rod and wait for a fish to be caught on your hook!
How to Play Fisherman
Experience fishing like never before with Fisherman, a humorously addictive game where successful fishing yields large rewards!

Press the game screen and send your fishing rod to the open sea.

The hook will slowly descend into the depths of the sea.

A fish will definitely get caught on your hook.

The main thing is to slowly pull the fish back on the hook. Because fish can be easily unhooked.

Take the fish and set it aside. That's it!
Fishing Locations
Fisherman offers you four different locations to fish:
Calm Pond

Forest Lake

Lost in Egypt

Alaska Extrim
All of them are very fascinating places for fishing, and it is very possible for you to encounter different fish species specific to each location. We recommend you try each of them.
Time Constraint While Fishing
You are given a certain amount of time to fish. The more fish you can catch during this time, the better it will be for you. You can see how much time you have at the top of the screen. Additionally, every fish you catch gives you extra time.
Tips for Fishing
It may be more logical to try to catch fish with high value and weight in order to earn the highest earning. Catching small fish will make you money, but focusing on the big ones is better.

When the fish is caught in the net, it will slip off the hook if you try to pull it quickly. It is useful to be careful and careful when pulling the fish to the surface, especially when you cast the fishing rod deep.
Controls
Use your mouse button to reel in those valuable fish.
Games Similar to Fisherman
If you find Fisherman enjoyable, you should try Penguin Fishing, where a little penguin is very hungry, and you need to feed him with fish. Alternatively, you may look for other arcade games on OnlineGames.io for more thrilling game options. Stay connected, and you will always find new and exciting games!