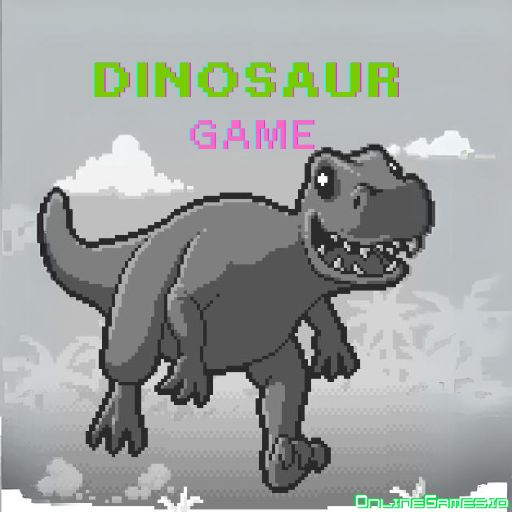 Do you remember the T-Rex in Google Chrome when your internet connection went out? Now, you can play it online, too. Dinosaur Game is a free-running game where there is no finish line. We warn you in advance that this is a challenging game. But here is the fun! You will have a lot of fun trying to beat your own record. Are you ready to go back to prehistoric times?
How to Play Dinosaur Game?
As you can see from the graphics, Dinosaur Game is a very simple but enjoyable game. You will start running as a T-rex. From time to time, the T-rex's speed will increase, and sometimes it will decrease. The competition aims to avoid thorny plants as much as possible by adapting to these sudden changes in speed. If you touch any of these plants, you will be burned. When the speed rate increases or decreases, you can see the warning message in capital letters on the screen. No matter how easy the game itself seems, you will experience firsthand that it is not! If you have an internet connection, the game will open. The internet does not necessarily have to be disconnected.
Open your web browser and search for OnlineGames.io

Enter the OnlineGames.io

Search Dinosaur Run in the search field in the upper right corner of the site

Open the game and tap to start to begin running
When to Jump?
It is not good to be too close to the plants or try to jump when you are too far away. Because if even the most minor thorn pricks the dino, it dies. However, when the distance is not adjusted well, trying to jump from space may cause you to fall right on the plant. You need to be very careful about when to hop, especially during extreme acceleration and deceleration.
Does Dinosaur Game have an end?
No, the Dinosaur Game has no ending. It is an endless running game that you can enjoy without limit.
Is Dinosaur Game playable on Chromebook?
Certainly! Dinosaur Game is playable on all kinds of devices including Chromebooks, tablets and smartphones.
Controls
The game controls are straightforward, as are the graphics of the game. There is nothing that makes your job difficult. 
Use the W, Upper Arrow, or Spacebar keys to jump. Additionally, you can use your mouse click. Whichever you want to use.

Tap to jump in your tablet and smartphone.
You May Also Like
If you like Dinosaur Game, you might like Geometry Dash, with similar mechanics and obstacles. Check out the Arcade Games and 2D Games tags on OnlineGames.io for more game options.