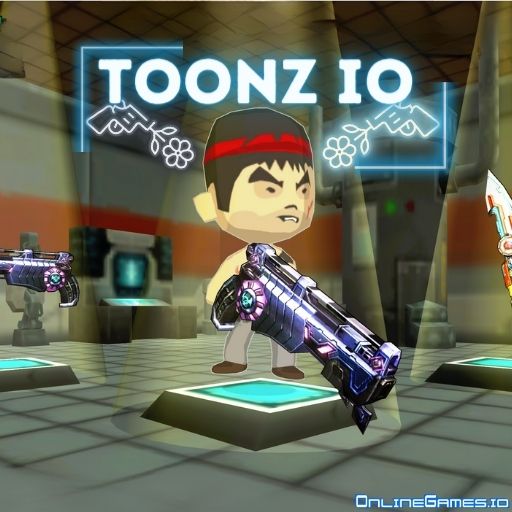 Bullets and swords are whizzing through the air! ToonZ io is a multiplayer shooting game with a vivid killing experience. ToonZ io provides you three distinct game modes and four particular map choices; thus, it enables you to have a diverse game environment with other online players. You can enjoy playing ToonZ io freely on OnlineGames.io.
How to play ToonZ io?
Use your mouse cursor to aim your gun

Use your left mouse click to shoot

Use WASD or Arrow keys to move

Alternatively, you can use your right mouse click to move

Use the Q key to swift between your weapons
Weapons in ToonZ io
There are two sorts of weaponry you can use. Gun is one of them, melee is the other. By clicking on the golden icons for a weapon and a melee on the right side of the playing screen, you can select the weapon you want to employ. Additionally, you can swift the weapons with ease by using the golden shift icon. You could also use the Q key.
In the menu, you will see your gun on the left and melee on the right. And your character will be positioned in the middle. By clicking on any of the weapons, you can view their properties. Use your earnings to advance the weapons. In this way, you will have more powerful tools in the game. Additionally, you can buy new ones with your frags.
Each weapon has the following kinds of property categories:
Damage

Fire Rate / Attack Speed (for melee)

Accuracy

Critical

Ability
How do you join a match in ToonZ io?
After selecting the game mode and game map, you want to play in, you have two options: you can either join an existing match or start a brand-new one. You must have the match ID and password associated with that match to join a particular match. You may also randomly join a game by selecting Find Match from the available matches.
Game Modes and Maps
You can participate in a Team Deathmatch or a Free Killing match in the ToonZ io. Additionally, this game provides you the following game maps:
The Town

The Farm

The Desert

The Airport
More Games Like This
If you enjoy playing the ToonZ io, look for io Games, Shooting Games, and Action Games tags on OnlineGames.io to find more games.