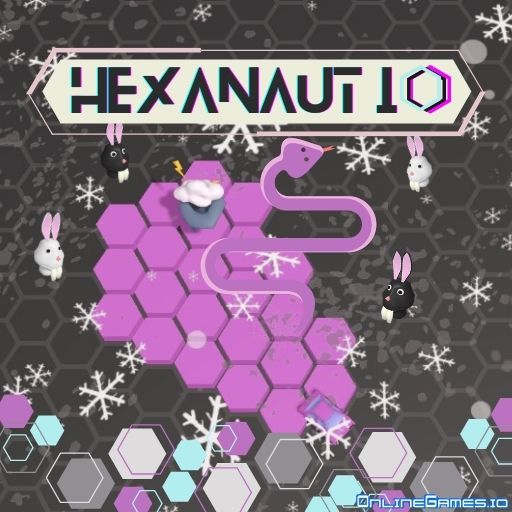 Get ready to be an expansionist, conquer and defend your territory in Hexanaut io! Hexanaut io is an online browser game where you find yourself capturing more and more honeycombs with your little snake. Be careful not to be cut by other players or cut your own tail. It's always safe in your area. But, when you leave your home made of hexagons in your color, try to keep your tail short to protect yourself from enemies. Since they will be closely watching to cut you and get your land. Move gradually, get the various totems on the map and be the King of Hexanaut.io.
Unlock and try out tons of different skins and badges to show your style on the map.  
Colorblind mode is also supported. You can turn the mode on by navigating the settings on the main menu. 
How to Play Hexanaut.io?
Choose a color and icon of yours before starting. 

Enter the game and use your cursor or arrow keys to navigate on the Hexanaut io map. 

You will begin with 7 hexagons. Wander outside of your home to get more land. 

You will see your tail growing while you are out of your home. Keep your tail safe. If it gets sliced, you have to start over. 

Be careful the tail can be cut by other players and yourself. Also, try not to collide with other snakes' heads, then both of you get eliminated.

As you get more land, you will level up and gain speed bonuses.

Protect your land by acquiring precious totems. 

If you get more than %20 of the map, you will be the King of the Hexanaut io. Reaching that level is difficult enough, but maintaining it is just as challenging.
Totems
There are 5 types of totems on the Hexanaut io map. 
Speed Totem:

 You will receive an extra boost in speed.

Spy Dish:

 The minimap displays the territories of other players.

Spreading Totem:

 Automatically catches nearby areas for you

Teleport Gate:

 Teleports you to the farthest point on your territory

Slowing Totem:

 Create a misty region that hinders your opponents' movement.
Game Modes
Free For All:

 Play solo and try to rank on the leaderboard

Duo: 

Play with a teammate to share and enlarge a territory together. You will not collide with your teammate.
More Games Like This
If you enjoy Hexanaut io, check out our selection of io Games, and Multiplayer Games.