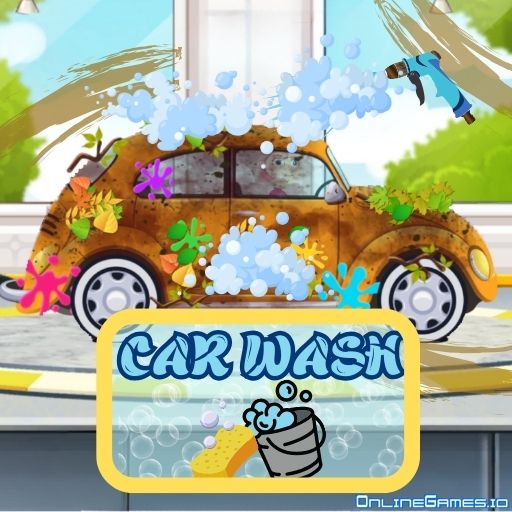 Washing your car will become enjoyable with Car Wash! Car Wash is a car maintenance simulator you can play for free on OnlineGames.io. There are many cars available to you. Choose what you want and complete the maintenance of your vehicle. Remember that a car that is not maintained will rot quickly! Froth it up until it's all snow-white. Scrub it thoroughly, rinse and shine your car until you can see yourself on the windshield! Start playing Car Wash for free now!
How to play Car Wash?
Playing this game is very easy, very enjoyable and very simple. All you need is to use your cursor. Maintenance consists of two stages in Car Wash. The car is foamed and washed in the first stage, then the wheels are cleaned of mud. In the final stage, the car's tire pressure, gasoline needs or polishing are checked. After completing your car maintenance, an enjoyable ride with it awaits you! 🙂
What is Car Wash?
Car Wash is a car game where you have lots of cars that need to be maintained. Choose your favorite car from the menu and start to renew it. Every vehicle's maintenance needs are different. You will have the tools to meet these needs within the game.
Perks of Car Wash and Simulation Games
One of the greatest benefits of playing simulation games is it allows the player to experience the real world. It increases the players' critical thinking skills.

Car Wash provides a rich and dynamic environment where participants can taste different scenarios. For example, vehicles in different conditions need different maintenance in Car Wash. 

Simulation games typically have an educational aspect to them, and Car Wash is no different. Car Wash aims to teach the player about the maintenance requirements of a car and what is necessary under different circumstances while having fun and the relief of cleaning . This means that you don't have to worry about calling your dad and asking him how to do something whenever you're uncertain. We have you covered on OnlineGames.io. 
Car Options
Car Wash provides you a range of cars serving different purposes. You earn stars as you play the game and keep maintaining the vehicles. With these stars, you can unlock new cars for yourself. You can find the following vehicles in the menu and choose one before renewing.
Volkswagen Beetle

Police Car

Tractor

Fire Truck

Jeep

Minibus

Dipper Dredger

Sport Car

Lorry

Ice Truck

Crane

School Bus

Colorful Beetle

Ferrari

Tank

Monster

Limousine

Ambulance

Oil Tanker

Helicopter

Spacecraft
Similar Games
Try one of the games below if you enjoy Car Wash, or look for tags like Kids Games and Simulator Games on OnlineGames.io.